Author

:

Elizabeth Cortese

Favorites:
We are excited to announce that 75 additional students in Kampong Cham, Cambodia will receive scholarships thanks to over $16,000 raised by our Development Ambassadors in 2015. We are proud to partner with Buddhism for Social Development Action (BSDA) on their initiative, Education for All.
Founded in 2005 by a group of Buddhist monks, BSDA is a nonprofit organization based in Kampong Cham, Cambodia, that has grown substantially and boasts over 5,000 beneficiaries in five provinces. The Education for All initiative aims to provide vulnerable students from all over the country with the resources necessary to keep them in school. Assistance provided by BSDA includes school supplies, remedial educational support, school uniforms, and living stipends for proper nutrition.
This year, the initiative will serve 460 students. That's 460 students protected from the dangerous reality of lacking a primary education. Poverty sometimes forces parents to make hard decisions about how to allot limited resources; reducing daily expenditures and guaranteeing schooling for students means one less thing to worry about for needy families.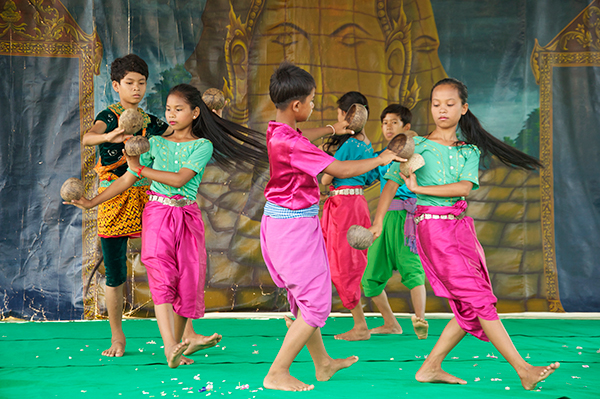 Going forward, the initiative maintains lofty goals. According to Alexis Simchak, Rustic Pathways' Cambodia Country Director, "one of [BSDA's] goals is to be able to provide small loans to the parents of the students to make their business more sustainable for income generation. More income means that they can support and keep their children in school." Unfortunately, she says, "BSDA is still lacking funds to be able to provide these loans."
With your support, BSDA can continue to grow and serve more students. Less than $350 per year provides a vulnerable, out-of-school child with the support necessary for them to pursue an education. In 2016, our supporters have already raised over $6,000 for this project.
Elizabeth Cortese
Social Media and Influencer Marketing Manager
Liz first developed a passion for travel while summiting Mount Kilimanjaro as a Rustic student. This taught her at an early age the importance of experiential education for students around the world. She has since graduated with a bachelor's in marketing communications from Emerson College in Boston. When Liz is not hopping from restaurant to restaurant in San Francisco or buried in a New York Times bestseller, she can be found packing her bags to spend time with family and friends.