From remote villages to modern cities and sacred ruins to tropical islands, this semester traces a spectacular route through Southeast Asia's celebrated sites and best-kept secrets. While exploring history, encountering traditional cultures, living like a local, and contributing to community-driven service projects, you'll gain a profound understanding of the region.
We have many long-term service initiatives here, in the floating villages of the Tonle Sap Lake in Cambodia to the communities of our local staff from Laos. Spend time getting to know students at the Rustic Pathways Children's Home from Thailand's rural Hill Tribe villages and help students practice their English at a school for monks in Myanmar. After completing the semester, you'll have gained a broad understanding of the varied cultures and history of Southeast Asia.
February 05 - April 26, 2019
Gap Year

11 Weeks, 4 Days

17-22

$14,995

plus Airfare
Gap Year

11 Weeks, 4 Days

17-22

$14,995

plus Airfare
Myanmar
Your semester begins in Yangon with a visit to the gilded Shwedagon Pagoda, one of the oldest and most revered Buddhist sites in the world. Next, explore thousands of ancient stupas by bicycle in the ancient city of Bagan. At Mount Popa, pay your respects to the nats, spirits that are believed to have inhabited this site for thousands of years. Serve as a conversation partner at a language center supporting Burmese students and young professionals. Then, you will travel to Kalaw, in the Shan State, where you'll trek through rolling hills to gorgeous shores of Inle Lake.
Thailand
Arriving in Thailand via land at Mae Sot, you will first become acquainted with the complex border dynamic between Thailand and Myanmar that has been ongoing for decades. Visit the biggest refugee camp in the country and meet with a group of exiled political prisoners to learn about what life is like for many communities in this region. Then, switch gears as you fly down to Bangkok to see some of the city's diverse highlights with a visit to the Grand Palace, the largest outdoor market in the world, and a dinner cruise through the center of the city! Continuing to Southern Thailand, you'll spend several days at Krabi–one of the most renown tropical destinations in the country–surrounded by towering limestone cliffs and emerald waters. While staying at Railay Beach, you'll have chance to kayak, rock climb, swim, and snorkel in one of the world's top ocean destinations. Next, get ready to discover the wonders of Northern Thailand, beginning with three days in the jungle at the Thai Elephant Conservation Center where you will immerse yourself in the life of a mahout (elephant caretaker). Explore Chiang Mai, whitewater raft down the Mae Taeng River, and discover the holy Chiang Dao cave. Finally, embark on a village homestay experience in the mountains outside of Chiang Rai, where you will learn about the ancient traditions and ways of life of the Hill Tribes as you live in the villages and take part in community-driven service projects aimed at improving community facilities and supplementing public education.
Laos
Traversing the Mekong by riverboat from Thailand to the UNESCO World Heritage town of Luang Prabang, you'll be struck by the lingering French colonial influence of the architecture and food. Here, you'll spend a few relaxing days exploring the charming streets, shopping in the world famous night market, giving morning alms to monks, and exploring the surrounding area. Next, we'll head north to Nong Khiaw, where you'll spend several days in a village working on an ongoing service project and learning about Hill Tribe life. Following a short flight to southern Laos, you'll spend a few days exploring the natural beauty of the Four Thousand Islands on the Mekong River. Take a long­-tail boat to Wat Pho, an ancient temple, and explore the markets of Pakse. You'll pass through impressive jungle and visit magnificent waterfalls on a two­-day trek on the Bolaven Plateau.
Cambodia
Traveling overland by a lesser-used route (weather permitting), we'll reach Cambodia, another rapidly modernizing Southeast Asian country with a fascinating past. In Siem Reap, the majestic ruins of Angkor Wat will help you understand the Kingdom of Wonder's rich history. Here you'll cruise the waterways of the Tonle Sap and drop anchor at a floating village for a few days of service. Traveling south, you'll spend time in the countryside comparing traditional ways of life to all that you've seen in Southeast Asia. Your last stop in Cambodia is the booming town of Phnom Penh where a visit to Tuol Sleng Genocide Museum and the Killing Fields will provide education about the suffering the Khmer Rouge inflicted on Cambodia.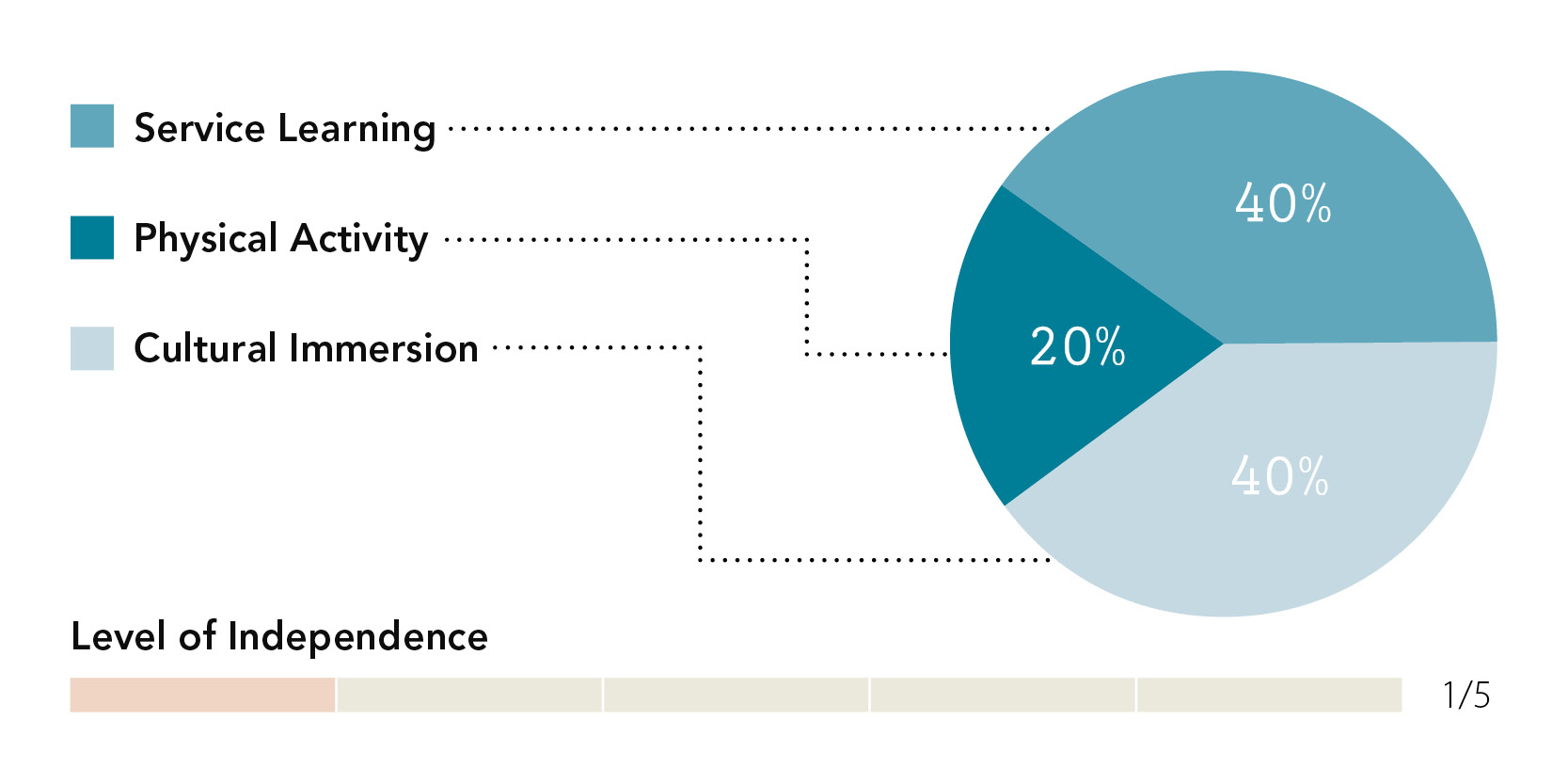 Golden Lands and World Heritage includes a one week homestay. There is community service throughout all four countries the group visits and an emphasis on immersion into the cultures of the region through visits to communities with which Rustic Pathways has a longstanding and positive relationship.